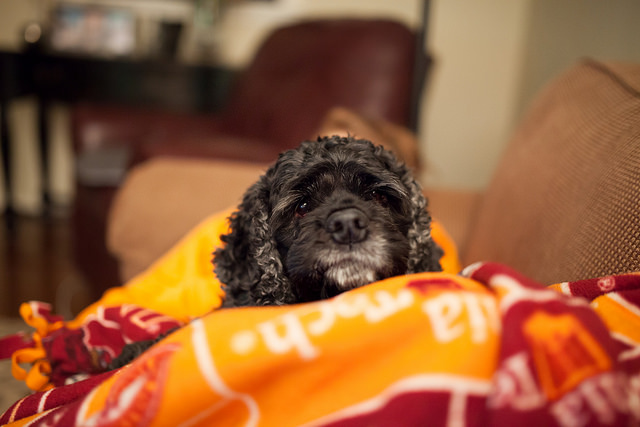 That little guy?  He's been my best buddy for almost 8 years.  On his 8th birthday, he has the potential to share his day with the one thing in life that can usurp his throne in our household.  With our boy due on October 31st, a mere 8 days after Dirk's (our dog) birthday, I have to look at him and wonder if he has any idea how much his life is going to change in the next months
This is a good segue into the latest update, as we made some pretty great progress on the nursery that I talked about last week.  Commenter John was spot-on with his comment indicating that Elise would be doing none painting.  She went shopping with my mother, while my Father and I created a masterpiece of a nursery.  Photos of that will be coming in a future post, as we aren't completely finished decorating, and I don't want to ruin the surprise!
Naturally I'm a little worried about the dog and how his life is going to change, but he's been around babies before and had no issues.  As I mentioned before, I also run a photography business, and with the "studio" actually being our basement, he's had a chance to be around a lot of strange babies.  But he's also been acting up a lot as of late, and I'm pretty sure he knows he's no longer going to be the big man on campus.
Have you acclimated a dog to a newborn?  I'd love to hear your tips on making sure he's included.  As much as he's a creature that eats his own poop, he's still a part of this family and very near and dear to our hearts.
As an aside, your feedback has been great, and I'm really thankful for all of the comments.  If you've enjoyed reading, I'd love more comments, and maybe even have you share this with folks who might enjoy it!  I'm planning on having my first DCDT review in the next few days, so keep an eye out for that, too!
5,946 total views, 2 views today