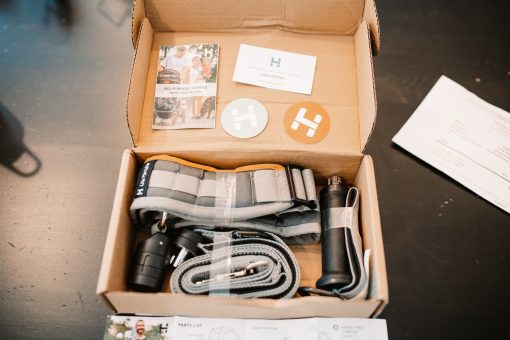 Business in the front: This item was provided to me, free of cost, from LifeHandle, in exchange for a review on their site, feedback on the item, and the typical demo unit odds n ends. Full disclosure, and all that.
As mentioned in my previous post, my hands are now outnumbered by children and pets. Three kids, one dog, and if I'm feeling really romantic, the soft, lovely hand of my beautiful, amazing wife. (Bonus Points +100). Because of this, walks can be a lot to manage, even if it's walking from the car in a parking lot to daycare, or walking in a gas station to pay for something. I'm always on the lookout for things that can make life easier, without requiring an upgrade to the minivan (I don't think I mentioned that we bought one of those, too). Much to my surprise, I came across the LifeHandle one night while browsing Instagram, and took a chance at becoming a product tester.
A few weeks after signing up, I received my email letting me know I was "in" and could receive my bundle within the next two weeks. I went with the Ultimate Leash Bundle, because I needed both the dog leash, and the child leash companion handle.
A couple things about this item, ripped right from their website:
The LifeHandle
Bundle includes base sling, hands-free dog leash, and the original all-purpose handle
Suitable for dogs of any breed, size or age. Compatible with any dog collar or dog harness.
Base sling: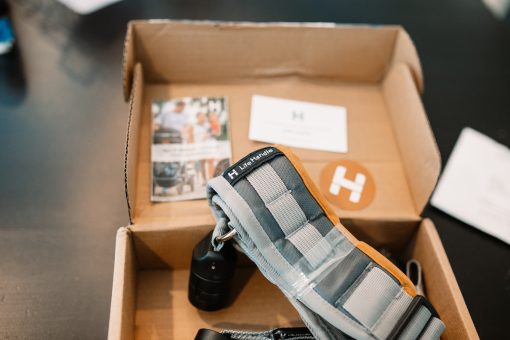 Engineered with breathable air mesh, neoprene padding, and soft non-irritating fabrics anywhere the sling may touch your skin
Comfortable, slim design that keeps you cool and stows away easily
Multiple points of reflective hi-visibility fabric gives you peace of mind that others will see you in low-light conditions
Multiple points of adjustability to optimize weight distribution and comfort
Patent-pending HUB technology to attach the dog leash, all-purpose handle, and other LifeHandle accessories
Pretty standard stuff, although it's worth going to the item listing to see the features of the attachments, because that's where this device really shines.
The All-Purpose Handle
We recently took the kids to Sesame Place and I had a chance to test out the All-Purpose handle. The newest kid is a chunk, and I tend to get pretty tired holding him, if he's not in the stroller. He's just like his brothers, and constantly has to be around the action, so he doesn't like to sit still. Having the All-purpose handle to take the pressure off of my hand and wrist was a Godsend. With the older kids, all I had to do was walk beside them and shout out, "Handle" and they grabbed the loop at the end. A slight tug let me know they were there, without having to look down. It might seem like a device made in excessiveness, or a solution looking for a problem, but for anyone that has tried to wrangle multiple kids at any sort of amusement park can appreciate that subtle tug to let you know your children are safe and close by.
The Leash
Later, I took the dog for a walk around the neighborhood. I really like this device because, unlike most devices that place all of the pressure on your hips or hands, the LifeHandle leash distributes the weight across the strongest part of your back and shoulders. For people with bigger dogs (like our horse of a Goldendoodle), having a better base to brace against pulling can work wonders for dogs that like to rush ahead. The leash itself is strong, well-stitched, and wide. There are assist loops placed up and down it, which can be a real blessing when you need to pull your dog in closer. Unlike other leashes, there's no need to wrap the leash around your wrist or grab the dog by the collar in tight situations.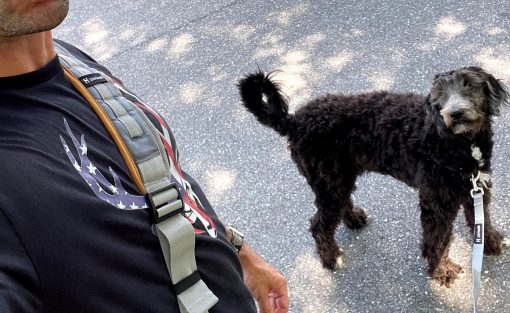 This strap and attachments are really well-built. Everything feels solid. I've had plenty of devices where the stitching feels loose, or pieces felt like they were going to fall apart, but I don't get that impression with the LifeHandle. I can't think of a whole lot of reasons that the LifeHandle shouldn't be the part of an active person's life, other than the fact that you're looking for something that has a little bit more storage (the LifeHandle has none) or you're just not in the market for an $80 leash/handle.
Pros
Strong, solid build
Lightweight
Distributes the weight across the stronger parts of your body
Kinda makes you look like Rambo
Price is comparable to other higher end leashes/straps
All-purpose Handle is diverse and way more useful than you'd think it would be
Cons
No additional colors
No storage
More expensive than a leash
I don't remember what review scale I had here at DCDT, but I'm definitely recommending this product if you're in the market for something like this. Real solid device that is lightweight and reliable, and a lot of fun to wear!
498 total views, 1 views today